Allergy Relief for your Pet. Stop the Itching and Scratching NOW with Skin-eze.
Testimonials from Happy Dog Owners
What our customers are saying about how Skin-eze and has helped their pet's overcome the discomfort of itching and scratching caused by skin conditions such as cat or dog allergies.
Wanted to thank you again and give you an update. As you know my Chocolate Cocker Hershey was close to having to be put down on June 1st and look at her now thanks to your products and a change to all organic food. I am sending another before and a new photo taken more recently.

Thanks again.
Suggested Treatments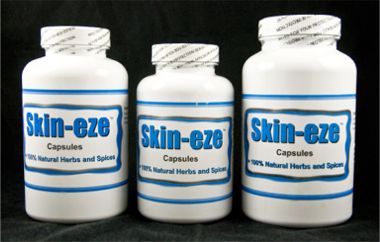 Suggested Treatments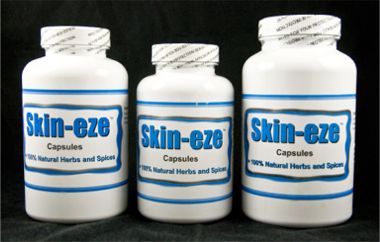 Skin-eze 360 Capsules
Our Price: $76.99
Save 36%
---
Skin-eze 360 Tablets
Our Price: $77.99
---
Skin-eze 1080 Capsules (3 bottles of 360 Capsules)
Our Price: $213.00
---
Skin-eze 1080 Tablets (3 bottles of 360 Tabs)
Our Price: $215.99
---
Basic Skin-Eze Pack (180 Caps)
Our Price: $58.99
---
Basic Skin-Eze Pack (180 Tabs)
Our Price: $59.99
---
Small Special Full Treatment Skin Pack - Caps
Our Price: $103.99
---
Small Special Full Treatment Skin Pack - Tabs
Our Price: $104.99
---
Large Special Full Treatment Skin Pack - Caps
Our Price: $135.99
Save 21%
---
Large Special Full Treatment Skin Pack - Tabs
Our Price: $137.99
---
Large Special Full Treatment Skin Pack - Caps
Our Price: $135.99
Save 21%
---
Large Special Full Treatment Skin Pack - Caps
Our Price: $135.99
Save 21%
---
Skin-eze Shampoo 8oz.
Our Price: $20.00
---
Skin-eze Shampoo (6 Bottles, 8oz ea.)
Our Price: $89.00
---
Skin-eze Spray 8oz.
Our Price: $20.00
---
Skin-eze Spray (6 Bottles, 8oz ea.)
Our Price: $89.00
---
Skin-Eze Oil O3, 1oz.
Our Price: $38.00
---
| | |
| --- | --- |
| | |
| Before Skin-eze | After Skin-eze |
Im writing in regards to skin eze and my experience. i promised a couple of months ago that if it worked i would send pictures. i hope you did get them picture 1 is of my llasa meesha who looked like this for a year she scratched till she bled she pulled all her hair out till she was totally balled except her head couldnt reach it she cried i cried with her to see her suffering so much she couldnt walk and her skin smelt like raw meat even to touch her was awful we took her to the vet numerous times always the same story pills injection allergys nothing you can do etc this went on for a year i couldnt let her suffer any more decided i had to make a decision to put her down which i didnt have the heart to do. i thought i would look on the internet to see if there was an allergy like hers and came across your website read all the articles called the company and thought what do i have to lose its worth a try a last resort i usally dont believe things like this but i thought ok what do i have to lose weve tried everthing i started her with 4 pills a day of the skineze tablets and a few weeks later started to see she wasnt scratching as much so i gave it a 30 day try well i could not believe my eyes she was growing her hair back meesha has been on it for almost 3 months now picture 1 is at her worst and picture2 is now seeing is believing i cannot express my feelings in words for your product she runs and walk again she eats and has kept a healthy weight she has so much hair all over again the groomer was in shock she thought i got a new dog thank you from the bottom of my heart you saved a little dog from being put down and giving me the joy of my life back i have told all my friends that are having similar problems and other to check this out because your product worked the pills the shampoo and oil i still cant believe it i keep looking at the pictures and like they say a picture is worth more than a thousand words thank you for being there for me and my meesha shes a happy little dog again what a blessing i hope your readers try it well worth it you made me a believer and not to many do thank from the bottom of my heart to you and your staff.
God Bless
Liv from Canada
Before Skin-eze
After Skin-eze
Just wanted to say how thrilled I am with the skin-eze caps. Our dog had oozing,bleeding places on this neck and leg that were spreading & had hair loss. After $150 vet vist to which he had no idea what it was or how to treat it, I got on the internet and found your site and being VERY skeptical, but impressed after reading comments, I ordered 1 bottle. I was truly amazed-in a week his bleeding spots have healed up and his hair is growing back. I am ordering more-
THANK YOU for this miracle--
Lynn
I had contacted your site about our mix breed pomeranian, 2 1/2 years old with severe allergy or something causing big lesions and hair loss, extremely sore feet and odor. After having him seen by 4 vets and many antibiotics and other meds I read the information on skin-eeze and looked at the photos. I decided after all the money I had already spent, what was the cost of one bottle of the skin-eeze. I am happy to say that after finishing the first bottle he has had only two new lesions, smaller than a pencil eraser, when previously some spots were as big as the palm of my hand. He has new hair coming into all the bald spots from the previous lesions. He still looks kind of sad but seems to be getting better. I started giving him the second bottle this last week and today gave him the first bath with the shampoo. It smelled good, not mediciney like some I had tried. Itching seems to be almost gone too. Thank you for Skin-Eeze. First thing to help in over two years of misery for him.
Thank you, thank you!
Sincerely,
Janet K.
Our Boston Terrier has been on skin-eze for 4 years. Skin-eze has allowed her to be a dog. She can rump around in the bushes, go for hikes. She does not spend her time scratching and gnawing her paws and having a rubbed raw underbelly. Her belly is now white not red. And I feel better too.
Sandy F.
hi just wanted to know where i can post a testimonial i have a Rottweiler on your seizures product and i have a Chihuahua who has skin issues actualy vet told me he had scabies so we treated him but he never did regain his fur and he smelled well i can tell you first day i started given him your herb he didint smell any more my only problem is he hates the capsul i have to dilute in water and syringe it down his little throat but i tell him it for his own good and one week im a happy camper fur is growing back and he smells like a puppy should not yeasty thank you so much and as far as my Rottweiler i havent had any seizures except one and it was small i used the drops on her every day but when she had seizure i gave her extra and i think it helped
24 hours now no scratching!!!playful happy doggie again!!!! yeah!!!! I was ready to go back to the vet and finally some relief. Still have to grow a coat back but what a difference. Thank you thank you I'm so glad I stuck it out, your web site really convinced me to wait and I am so glad I did!!!!!!
Cathy W.
I was at the end of my rope, and I was searching the web for help, my West Highland White Terrier was dying, she had itched he self almost to death. I found your web site and thought how could this help my dog when the vets could not help. I decided to try it and I could not be more pleased, you have given my dog Buttercup a now chance at life, she is back to her old self, playing and having a good time and sleeping through the night without itching.
Thank You,
Marge
My 12 year old female dog was long haired till she was 3 years old. She was 3/4 bald when I started her on you treatment one month ago, She is growing hair again and her skin has improved Can't wait to show her off to the Vet!
Pal G.
Just wanted to let you know, I am on my second bottle of skin-eze for my Westie. After her second breakout on her back, I ordered my first bottle and started giving her 3 pills a day, left on vacation for 10 days and my husband mistakenly gave her 6 pills a day. When I got home, her back was full of black scabs, so I thought OH No! but after I gave her a bath, scabs out of her fur, she looked beautiful and hasn't had a breakout again. Hopefully more Westie owners will read this and order instead of putting their dogs down. I give her a maintenance dose now of two pills a day. The first bottle was the tablets which I had to camouflage in turkey meat. All I have to say is "time for your medicine" and she goes running to the kitchen. This time I am trying the capsules. I have notified the Westie Rescue group in hopes of getting this info out to other owners.
Thanks for a great product!
Debra H.
Hi: Your SkinEze tablets have been the only product that has given my rescued 8 yr old Yellow Lab, Moose, any relief. I have had Moose for a little over a year now. He takes seven tablets at each feeding (14 total/day) along with fish oil capsules, algae, yogurt and Organic Apple Cider Vinegar. Since I've had him, I've treated him with only natural products. I'm sold on Skin-eze. I've just ordered another three bottles. With them being all natural, I'm sure he will not be hurt by taking so many per day, but that's the only way his itching has been controlled. Thank you so much. I've tried everything and SkinEze is the very best so far.
Bonnie B.
I rescued Maggie(2yr old American Bulldog)1yr ago. She had terrible skin rashes, loss of fur and scratched all the time. I took her to the vet and she suggested expensive allergy testing. Well I decided to do my own research. To make a long story short, I switched her to hypoallergenic food, not much difference. Still had constant scratching. Found Skin-eze online and ordered a small bottle(skeptic). I gave her 2 tablets a day and saw some improvement. No bad reactions. I upped it to 4 tablets a day, more improvement. I just reordered a 360 bottle. Thanks Skin-eze you saved me a fortune in vet bills! Maggies fur is softer and has grown back. Scratching is lessening. I have recommended this product to my friends!
Heather and Maggie
Texas
I could not see where I could add a comment about your product. We too were at a lost after spending thousands of dollars at the Vets and nothing was helping our dog. After doing some research and came accross your website and reading some of the other people's comment we decided we did not have anything to loose and if this did not work we were seriously looking at putting our dog to sleep as he was in pain. thank you as we are now on our second order and he is no longer on any of the other medications the vets gave us and his skin is growing back, he still has a bit to go but so far he is looking alot better. I have given your website to our local hdro bath dog lady as she was saying she has other clients with the same problem.
once again thank you.
Donna M.
I was not sure about SKINEZE because the way the bottle was presented it did not look professional it was very questionable. BUT after two years of trying everything on the market to stop my German Shepherd from itching, I got a small bottle to try. I was so skeptical I did not following the directions I gave her 1 pill a day then moved up to 2 pills a day for a week. Every week I saw an improvement just by giving her 3 pills. I went up to 6 pills the following week and she did not get sick and I noticed no more itching (after 2 years). Now I have her on a 3 pills a day and it seems to be her dosage for her size and problem.
Thank you
Tonda S.
Didn't know how to contact you and tell you what a GREAT product this is... but I guess you already know that! Most of your stories are about small dogs. I have a 120 lb. german shephard who has struggled with skin issues all his life (he is 5) this breed is prone to skin issues as you may be aware. His itching, scratching, biting and SMELL were awful! No one wanted to be around him he stunk like a skunk no matter what I did. One try of your shampoo (I used the entire bottle on him... like I said he is BIG) and it made a huge difference. The icky black patches on his belly began to heal, his coat is soft and my girls just love to pet him now! He doesn't smell like a skunk anymore! I have ordered more of the shampoo (6 bottles this time) and I am going to take this product over to an all natural pet store in my town to tell him he should carry this stuff! I tried almost every product in his store with no relief before I tried Skin eze.
Thanks for a great product!
Lucy B.
Your products are amazing. My Cairn who has suffered endless trips to the vet to get special shampoo then to shampoo after shampoo her, drops for the ears, the coughing and skin scabs. Biting her paws till they bleed. Pills, ointments and nothing seemed to control all her symptoms. It was also time consuming and she just was not doing well. She is well beyond recovering. I give her three pills a day and she's miss happy pants. No symptoms or allergies whatsoever. I told my vet and she just didn't seem to care. Which really made me wonder.

Well thank you so much. From a customer who will always give out your name to other problem owners who animals suffer.
Laurie
Wisconsin
Having seen your testimonials on your site--we thought we'd submit one of our own. BTW--you may want to know that we have never written a testimonial to any company for any product before. But Skin-eze has inspired us to do so, in hope that it may just influence one more pet owner to reduce a pets suffering. We were distressed when our 2 year old Bullmastiff male began losing fur, developing sores, scratching aggressively and chewing his feet to the point of bleeding. The vet couldnt find anything wrong with him--all the while, piling on the bills. After trying a second vet with similar results (none!)--our alternative was to spend yet more money and time, while watching the dog suffer, as the vet tried conducting allergy tests. In desperation, we found your website, and figured that even if the product is a complete hoax or ineffective, the cost of a trial would pale in comparision to the nonstop and non-productive vet bills. So we took a chance and ordered Skin Eze. Quite frankly we were amazed- we still cant believe what happened. Within days the dog stopped scratching. Within a few weeks, we saw visable re-growth of his fur. Its been about 3 months now, and he has all of his fur back--hard to believe when we thought he had mange originally! Your product is the real stuff. If anyone has any doubts about its effectiveness, we'd be happy to communicate with them personally about our experience with Skin-Eze. Thanks for producing this great product--its made an enormous difference to our family, and our big happy bullmastiff!
K. & J. R.
As a last resort I tried your skin-eze on my dog. he has been litterally raw for 3 years, with only temporary cures from the local vet. I know that he would thank you folks if he could. He has been clear for 6 months, now, and the other side benifits are great. Less stress has made him more playful, and he hasnt had diarhea since i started to use the products.
Dennis A.
I just received my skin-eze today. I ordered the tablets, spray, shampoo, and ear drops. I have a 2 year old shih tzu that has chronic allergies and has recurrent yeast infection. I just bathed her, and for the first time in over a year, she is NOT itchy!!! She is not dragging her face all over the carpet, going after her ears, and licking her privates. Thank you for such a wonderful product!! I will be a life long customer!!
Thanks again,
Arlene S.
Canada
Thank your for returning my irish setter to the beauty she once was. I can once again stroke her now smooth mahogany coat. We tried everything with numerous veterinarians for years, but she was still a walking bald scab. Thank you, Thank you, Thank you
Joe M.
I have a 6 year old Shih Tzu named Lola. For years she has suffered miserably with skin allergies. It had gotten so bad that her fur was falling out. She scratched, licked and chewed herself all day and all night long. I have tried everything to help her. About 2 months ago, I switched her from a high quality food which she has always eaten, to a raw diet which is high protein, low-carb, and grain free. She also gets plain yogurt every day to help control the yeast which causes her ear infections. The allergies persisted. So finally I had decided I was going to put her on steroids as a last resort. The day before her vet appointment, I decided to once again search the internet for an alternate solution as I do not believe that veterinarians are very educated when it comes to nutrition or allergies. They immediately want to drug the animal which can lead to all kinds of other ailments. I got online and was so happy when I came across the Skin-eze website. I read the testimonials, checked the product ingredients and was convinced it was worth a shot. I am a big believer in holistic remedies and was really hoping that this would be the solution I had been searching for. I received my order today in the mail (very quickly I might add...only 2 days after I had placed the order) which consisted of the shampoo, oil drops, tablets, and skin spray. I immediately bathed her, sprayed her hot spots, and gave her 3 of the tablets (disguised in moist food). Within an hour she was a completely different dog. No chewing or biting and very limited scratching. She smells good too! Tonight she is sleeping comfortably with no itching. I am blown away by the power of Skin-eze. I HIGHLY recommend it to anyone who has an animal that is suffering with debilitating allergies. It is worth the every penny. I spent less on these highly effective products than I would have spent on one trip to the vet! Give it a try. You and your dog will be very happy you did!! It is truly remarkable.
JoAnne W.
Wisconsin
---
Your products saved my dogs life also! I have been exploring solutions for skin allergies for over 5 years, including trying everything the vet suggested. My dog's allergies kept getting worse. As a "last resort" I bought your skin-eze - and she is cured! She is not suffering any more! Now she can sleep at night, play, enjoy life without all the itching. Being a nurse I even had the vets do a complete physical including a full blood work panel. Everything came back perfect! No side effects! Your products are tremendous and I would recommend them to any pet owner to improve your pet's quality of life.
Ann
---
This is just a short note to tell you, what a success I had with your skin-eze capsules. We were able to reduce the prescription drug to 1/2 tablet every two days (from 2 every two days) and I'm convinced, that in a few weeks I'm able to reduce this amount to zero. My dog is still on 5 capsules twice a day, and I will have to order more capsules. I'm going to do that in a few weeks when we are in BC.
Thanks.
Sonja G.
British Columbia, Canada
---
I have a Shih Tzu that was stung by wasps 4 years ago. She was given a cortisone injection and it has caused her skin allergies since. Everything that has been used to help Chelsea has been unsuccessful, so as a last resort I thought we would try Skin Eze. After just one day she has practically stopped scratching and seems so much happier. I am so happy I stumbled accross your website it is such a blessing to Chelsea.
Thankyou
Debbie
Australia
---
I want to thank you for your products! I have a border terrrier that has been miserable for the past 4 years. Was on Vetalog long term with very severe and deadly side effects. She had severe pancreatitis along with urinary tract infection. She survived on pedialyte and baby food until the antibiotics kicked in. Once the infection was gone ALL of her hair fell out (including her whiskers) and was scratching bringing blood due to yeast infection. AWFUL! We were to the point of nearly putting her down, felt we were being cruel to her to keep her alive so miserably. I found your product and ordered it immediately, thinking this is last resort, what is $30? Thanks to a miracle, my dog is happy, playing, hair has grown back with the exception of a couple of trouble spots on her rump, all due to Skin-Eze. I started her on 3-4 tabs twice a day, she was so far gone that it took a couple of weeks to really see the difference, but she is a whole new dog. I took your product to my vet and included him in on my treatment option and he was all for it. He also said if it continues to work it would be a good idea to keep her on it. That is what we are doing now, maintenance. Thanks to your product and a good dr. we now have our Maggie to spend many years with us!!! I have recommended your products to everyone I know.
Thanks again for the life of our dog!!
Laurie K.
Texas
---
I've used the skin eze pills for 4 days and have sold 4 people on it. I believe in this stuff so much, I could sell it to people that don't even have dogs!!!!!!
Thank you, thank you!!!
Arlene E.
---
11 yr old Shihtzu, endless nights of interupted sleep, benedryl did not even come close to calming this dog's itching. We tried it all, short of expensive allergy shots. We had nothing to lose at this point. Skin Eze = $30: no scratching dog = priceless!!!!!! Skeptics, you've got to get this stuff. Our dog stopped itching in 30 minutes of first dose!!!
Arlene E.
---
I have tried everything and this is truely the only thing that has worked I am on my 2nd bottle I bought the 150 I think the 1st time now the 250 and this the only things that has help my Abby I am sold on this and I can not see anything in it that would hurt her she loves it with peanutbutter a ture dashound treat.
thanks again
Bernice C.
---
Our Westie(Buddy)and my wife and I sure thank you and God for Skin EZE. We would not be without it. His life is now itch free. He was in very bad condition before Skin EZE.
Thanks a million
Don B.
---
Your product Skin-eze worked very well for my dog's skin problem.
Thank you
Shawna B.
---
On May 4th I saw your site and ordered Skin-eze for my German Shepherd, Buddy. I sent a testimonial about how fast this product worked, and now two months later must let you know how really wonderful it is. I no longer have to give Buddy special, expensive, prescription food, or see the vet, or bathe him constantly. He has the most beautiful coat now. He isn't scratching or biting his fur off and he, for the first time, has a thick, soft and luxurious coat, including his once sparse tail. He is so much happier and he isn't shedding anyways near what he had been for the almost four years of his life. I can't say enough about your product. I just purchased more capsules and will keep him on them forever if necessary. Thank you, thank you, thank you.
Pauline T.
Warren, CT
---
I have been using your Skin-Eze formula for my Jack Russell Terrier for over a year, and it is wonderful! I can't believe I didn't think of looking you all up sooner, but from now on I will go to your site first!!!!!!!!!!
Penny F.
---
I just want you to know how much Skin-eze helped my 6-month old Labrador. We adopted him from a Lab Rescue who rescued him from a shelter. He was emaciated and dirty. When we got him, he was scratching and chewing incessantly. I switched from one expensive dogfood to another and even used Salmon oil sprinkled on his food. It was a blessing to find this online. I was stunned as to how quickly this product worked. By his second dose, he has stopped scratching and chewing. Whatever is in these tablets works and I'm glad I didn't have his vet give him steroid shots.
Thank you for this very fine product!
Rhonda
---
I just wanted to let you know how grateful my Westie, Watson, and I are to you for this product! Watson is 12 and since he was 6 weeks old, we've been battling allergies. I was able to pretty successfully control his allergies by changing his food, constant flea patrol, and occasional baths for 11 years. Then, we moved to Savannah, Ga, where the flowers and trees are always in bloom and seasonal allergies wreak havoc on man and beast alike! We tried Benadryl, cortisone, steroids, etc and still he itched all day and night. His feet were mushy, raw pads and there was no hair at the base of his tail. he couldn't sleep or rest comfortably, he would lie and just lick the air, his feet, his arms, his rear, etc and we felt helpless. I saw skin eze after googling "pollen/seasonal dog allergies" and ordered it straight away. My husband was skeptical,(like I said Watson's 12, we've tried our fair share of "miracle allergy cures" to no avail)but I felt desperate and was willing to try a new product, and besides, this one was unlike anything I'd seen on my 11 year search (cicada shells, anyone?!). Thank goodness I did!! Within 30 minutes of his first dose, Watson was resting and the licking was drastically cut down. We gave him 4 pills 3x a day for the first week, and now week 2 he's 4 2x a day with amazing results! He no longer suffers in misery, the constant licking is gone, and can enjoy summer in Savannah with the best of them! His hair is almost completely grown back under his tail and his paws are dry and irritant free. The only downside to this tablet is that it's hard to sneak it to him, he's on to the whole there's-a-pill-in-the cheese/hot dog/peanut butter/etc routine, but I will just keep coming up with ways to trick it into him because it really, truly works. I have my happy, sweet, comfortable Watson back and I know skin-eze is the reason. We will never be without this product and I would highly recommend it to anyone without hesitation. Those cicada shells must contain magic :)!!Thanks again, I wish you much success and good karma, you deserve it for helping the little beasties and their families!
Best regards,
Hayley
Savannah, GA
---
I ordered skin-eze and the drops for ears for my 3 year old german shepherd. I got him when he was five months old and he had dry skin, thin brittle fur and chewed and scratched constantly. I took him to vet after vet. He was dipped for sarcoptic mange, bathed in many kinds of shampoo, his food was changed too many times to count. Then last week I saw your web page and told myself that what could I lose but more money. I received my capsules and ear drops on Wednesday, May 6. By this time, Buddy had chewed the fur off the center of his tail and on his rear "knees", his ears were kind of greasy and had tufts of fur missing around the edges. I gave him 2 capsules Wed. afternoon when I got them and 2 more at bedtime. They didn't bother his stomach so on Thurs. morning I gave him 4 capsules and 4 more at nighttime. On Friday, I couldn't believe my eyes. His fur was growing back on his legs, his ears looked perfect with no notches where the fur had been missing. He has almost stopped scratching, did stop chewing on himself. His fur is now soft and shiny and becoming thicker right before my eyes. He is a much happier dog. He wants to play and run and have fun, which he hasn't done in a long time. I don't know what these herbs do, or how they do it, or why they work so fast, but I wish I had found your site 2 years age. Keep up the good work. I will be buying more when this bottle gets low and know that Buddy will be a much happier dog. Also, his ears aren't hot and itchy now and no longer have an odor or oily film in them. Thank you so much. This sure beats all the shots, vet visits and different foods.
Pauline T.
Connecticut
---
I just had to tell you how great this product is. Within 24 hours of using Skin-Eze the scratching was almost gone! Now almost a week later, we are completely off of Benadryl. We have a new dog now.
Thank you so much!!!
Kelley M.
---
Thank you so much. This stuff works! Ordering a second big size bottle today. Its been a tremendous help for our dog, stop scratching, no longer breaking out constantly with bumps all over her. I tried others, this really works.
Thank you so much!
Roo's Mom
---
Hi, I am trying to write a testimonial about my little Jack Russel. I took him to the vet and she suspected mange. Gave him the Ivermectin and still he itched. Next I was supposed to go in and talk of treatments for allergies. Which would consist of steroids. I bought your pills, and within a week he started getting better. I had a definite problem getting him to not spit out the pill as he hated them. Peanut butter is the magic thing. You just coat the pill a little with peanut butter and it slips right down. You don't have to hold their head up or anything. Spread the word about the peanut butter, it works wonderfully.
Thank you for caring about the animals.
Linda A.
---
After 4 yrs of suffering with biting, scratching until bloody, skin eze has proved to be a miracle & answer to prayer for our 2 bichons. They are now living normal, happy lives. Allergy shots, atopica, benedryl did not work, but skin eze did!!!
Thank you, we are so grateful.
Barb and Tony Z.
---
I just tried your tabs on my little llassa and im quite impressed. She has stopped scratching alot. We still have a ways to go but it is helping. Thankyou so much i was almost going to put her down if only you could see her the mess she was. Thank you again for making something that works.
Sincerely
Liviana for Meesha
Canada
---
Just to let you know my Bichon has had skin problems off and on for the past 9 years. I had tried everything to great expense. And I felt so sorry for my itchy, scratchy dog. I have used your product for two weeks and Buddy is like a new dog. No itching, licking, biting and his manner is much calmer. He even smiles at me and is so proud he doesn't have to wear an elizabethean collar. Thank you so much for your help. Even his eyes no longer run and matter. What a blessing.
Edith
---
My American Bulldog has severe allergies, we have taken him to the vet and he was given a steroid shot, well he broke out in huge hives from it. we have tried everything we could think of to help with his problem, he lost all of his hair from his underarm to his belly, was oozing pus and scratching non stop. We came across skin-eze quite by accident and ordered a bottle. I gave him two pills a day, and in one month he has all of his hair back, no more oozing, no scratching!!! I have ordered another bottle to keep on hand. I want to thank you so much for helping my dog! This stuff is Amazing!!!!!!!!!!!!
Richard L.
Michigan
---
Hi. I tried Skin-eze for the first time last month on two small dogs that I adopted from a rescue group. Both were chewing and itching themselves all the time. The skin-eze really helped. I think its a great product, and recommend it to all my friends with dogs who have skin problems.
Carol W.
---
OMG! I received my first shipment of Skin Eez capsules yesterday and it works! It works FAST!

My little aussie Lakota has been suffering seasonal and food allergies and of course the flea bite allergy, for about 5 years now. I got the food figured out, but the seasonal scratching is horrible. I've tried EVERYTHING. Some worked a little, some not at all. We've just got past flea season here in the south, then along comes the fall season which always brings excessive scratching, licking, and hot spots. Poor girl gets about 1 month of relief out of the year. But after her first dose of 6 pills last night, within 30 minutes I could tell a HUGE difference. I honestly wasn't expecting it to work that quick.

She hasn't been sleeping for the past few weeks because of all of the scratching. After the Skin-Eze got in her system last night she was out like a light at 7:00. By this morning, I could tell it had worn off, she was scratching every couple of steps she took. I gave her the morning dose about 30 min. ago and she's asleep at my feet again!! Unheard of for this time of day. What a relief!!!!
Thanks for the miracle!
Sherry & Lakota
Birmingham, AL
---
Many thanks and I would just like to say what a fantastic product Skineze is ... it has saved my dog years of misery on steroids and saved me hundreds of pounds in vets fees!!
Rachel H.
UK
---
When we got Grommet from the Humane Society, no one warned us that he was an itchy dog. When I described the symptoms to my vet tech sister, she was not encouraging. She cautioned against letting him be on pred long term but said there is very little in the world of medicine that works. Well, we changed his food, bought you product AND started nightly brushing. He slowly got better but not 100%. We really thought it was his food but since your product is an herb, we kept giving it to him. Well, by conicidence, my sister was here the week we ran out of Skin-Eeze tabs. OMG! The poor little feller was so itchy - and so miserable. There is now no question what actually helps and we keep it on hand. He still itches, he's not cured, but he is SO MUCH BETTER taking Skin-Eeze than he is not taking it. Thank you for your product, your honest descriptions, your fast shipping.
Sincerely,
Mary, Warren and Grommet.

Answer from Allergicpet:
Thanks so much for taking the time to share your experiences with us. Chances are you need to increase the dosage of our Skin-eze product (you need to dose high enough to control the symptoms) and, your dog might need some of our topicals (shampoo, skin spray, O3 Oil). Please go to our pet skin care directions page and read all of the links, which discuss various symptoms, which products to use and how to use them. We hope you will report back to us after following these suggestions.
---
I am writing to thank you for your Skin-Eze product! My daughter's 8 1/2 month-old pitt bull puppy has been suffering with a skin allergy for months now. She has gone to the vet and gotten medicine and even a corticosteroid shot. Nothing helped. We tried several different shampoos and she gets the flea treatment every two weeks. Still she chewed until she looked like she had racing stripes down each of her sides. She was losing so much hair. I was so skeptical, but desperate. I ordered skin-ez and she has only been on it for a week, and after only two days of taking four tabs twice daily, her hair has already begun growing back and she is back to being a puppy. She isn't scratching and chewing constantly. She is a little bit, but I would say she is 90% better. Her coat looks really good and seems to even be softer. I will keep ordering this product for her. It's not just another gimmick. It really helps.
Jacqueline J.
---
My westie has suffered for five years with yeast infections. I was at my wits end trying to help her. She has been on your product for two weeks and I have seen a remarkable improvement. The shampoo is wonderful. I hope it continues!
Thank you.
Pam R.
---
My Beagle Zoe has done fabulously on Skin-eze tablets! People who see her want to know if there is a similar product for humans. Do you know of anything? Would it be safe to take the capsules? Zoe has had allergies since she was spayed at 1-1/2 yrs old. She is now 10 and on Vetalog to control the scratching and biting. Recently the vet said I needed to reduce the amount, so I started her in Skin-eze. Within 2 weeks the hair on the tip of her threadbare tail grew back better than ever. It looks like Uno's. She now has hair on most of her belly and most of the black scale is gone. Her ears are completely healed and I have gotten her to 1/4 strength Vetalog. I will wean her completely off this summer. I am truly amazed! Thank you for a great product.
Carrie
---
I want to tell you about my dog Bailey, a Westy, and how your product has helped. Bailey has atopic dermatitis. He has been on prednisone and antibiotics for 4 or 5 years now and nothing has really controlled or eliminated his itching. October 07, he was worst off then he's ever been, I was at my wits end, and tired of the same treatment offered by the vet. I found your product online and ordered it in November 07, and have been using it since. When we started Bailey's hair was almost gone, his skin was full of welts and hot pink in color, and smelled awful. About one month later I started seeing Bailey's hair growing and his skin returning to normal. Everyday I kept seeing improvement. Today Bailey's hair, the fine underlayment and outer hair is all grown in, his skin is back to its normal color and texture and the smell is gone. This is due to the Skin-eze caps and your shampoo. He looks better than he has in 3 years, we are very pleased.
Thanks,
Your Satisfied Customer
Tony
---
We are re-ordering Skin Eze capsules because we have seen such an improvement in our Sharpei since being on the total package of treatment, it happening slowly but hey its happening she is getting her coat back!!! This time we have ordered the Healthy Fresh to further aid the coat recovery, and the scratching has subsided so much.

We spent so much on vet bills "Specialist Dermatology" bills, expensive special prescription diet food, I dread to think of the total. We have her back on a Barf diet eating proper food!!!! Shes certainly a happier dog.

Thanks a lot especially thanks from Channa our dog.
Janet F. and Channa
New Zealand
---
Charlie seems to have an immediate benefit from the tabs. We gave him three and he is scratching at least 30% less right away. Sprayed him before we went for a walk and even though we found four fleas tonight he hasn't gone crazy after his walk. In fact he went right to sleep on the floor without any scratching whatsoever. Great stuff................thanks so much!!
Max
Australia
---
I just wanted to say thank you so much for making such a great product!! The Skin-Eze capsules have been a life saver for my puppy dog and I absolutely cannot say thank you enough!!

Here is our story…I adopted a miniature dachshund in the middle of March 2007. He was a happy, healthy, energetic puppy dog when I brought him home and he stayed that way for almost 3 months. Then about the middle of June he kept having infections/allergic reactions all the time. I took him to the vet every other week for a completely different problem each time for about 2 months. Well then he developed little bumps all over him and everywhere they appeared…he lost his hair. I could tell he was in a lot of pain and didn't look too great either with hardly any hair. And he was scratching and itching all the time which just made them worse. The vet finally decided he was having an allergic reaction to something and would put him on a synthetic steroid for a few weeks and said if that didn't work, we would have to allergy test him, with the possibility of never figuring out what exactly he was allergic to, and also with the possibility of him having to get shots for the rest of his little life. The synthetic steroid was not working and well this little dog has become my heart and soul and I didn't want to accept the fact that he would be on allergy shots the rest of his short-legged life! So I started searching and came across Skin-Eze and thought 'what the heck…it can't hurt…right?' And boy am I ever glad I tried it!! It has been a lifesaver!! All his hair grew back (and then some!) and we hardly ever have any more breakouts and if we do, the bumps seem to disappear overnight! I will keep using your product as long as you keep making it! I would rather my little guy be on pills for the duration (and he thinks they are treats!) than have to give him shots (and him be scared of me).

Again, thank you, thank you, thank you for making such a FANTASTIC product!!! Keep up the great work!

Sincerely,
Danielle S.
---
Dear Allergic Pet
I just wanted to let you know about my dog Rio. He has been itching and scratching for two years ever since the local pet groomer nicked his skin (near his private parts) with a trimmer. It was as if suddenly his skin defences had been breached and within a couple of days he was scratching and licking himself into misery.

We have tried everything. Hundreds and hundreds of pounds have been spent on vets bills and medication. Nothing worked - the poor dog was demented and so was I. I was even thinking that he would have to be put to sleep rather than live this terrible life. Then I thought I would check the Internet to see if there was anything I could find out that my vet didn't know. I found your site.

Rio has been taking Skin-eze for three weeks now. After 8 days, the itching practically stopped. I say practically as he thinks about having a scratch once or twice a day, but I can stop him by gently asking him not to do it. For 99% of the day he does not even think about it, and there is a complete change in his outlook. He is much happier and seems even to be smiling. He is interested in life again - before he was permanently distracted by his incessant scratching and licking.

I can't thank you enough.
Marilyn J.
Okehampton, Devon, UK
---
I want to tell you what great products you have! When I lived in Florida, my dog, Prince scratched and scratched constantly. My co-workers said he must have fleas. Well he didn't have fleas. My vet told me to put him on Benadryl which didn't help much. I even tried a dog food just for allergies which didn't help him either. So I went on-line and came upon your product and thought why not try it and see. I gave him 6 tablets twice a day as the man suggested for his 40 pound weight. Well Prince stopped scratching soon afterward and he was fine. When I cut the dose to 5 tablets twice a day he started to scratch again so had to go back to 6 twice a day. We had to move to Texas which has horrible problems with allergies I found out. I had run out of Skin-eze and Prince started to chew his feet and scratch and lick his feet and legs constantly. Prince soon licked all the hair off his front legs up to 5 inches high. So I sent for Skin-eze again and he stopped licking almost right away when I gave him 8 tablets twice a day for the first 2 weeks and then went to 6 tablets after that. His hair has grown back entirely after 3 months on the tablets. The constant licking stopped and he rarely licks at all.

My roommates dog Sno who is 12 years old, has severe arthritis so when I sent for my next order of Skin-eze, I ordered Lameze for Sno. Sno walked with her back legs criss-crossing each other as she walked. She walked slow as well. I started her on the Lameze on Monday night with 5 capsules twice a day for her 41 pound weight. In a day and a half on the capsules she was walking with her back legs together but not criss-crossing anymore. She slept all the time before and now is more alert as well. It is now Thursday and I noticed today she stood with her back legs apart a few inches, which she couldn't do before. She even goes up the 3 stairs to my roommates bed with no hesitation at all whereas before she had to psych herself up and pause for seconds before she went up the stairs. She hasn't jumped off the bed in years and today she did. My roommate even agress she walks better, is more alert, and can't believe it! Since it has only been 3 and a half days since she started on the capsules, I can't wait to see how she is after a month!!! Sno even keeps up with us when we walk whereas before she couldn't keep up with us. She has even ran to the door a couple of times, something she couldn't do before either.

What amazing products! Your products are cheaper than vet visits too, and natural as well which I prefer. I don't know what I would have done had I not had your products to use!
Sincerely,
Barbara B.
San Antonio, TX
---
Hello-
I just wanted to let you know how much your Skin-Eze tablets have helped my dog Sadie. She is a border collie/golden retriever mix.. Sadie was broken out very badly on her belly and the insides of her hind legs. She had scratched so much that she had a bald spot on her back and had also lost hair on the inside of her legs. She also had several hot spots and scratched incessantly. I knew she was miserable and it broke my heart to see her scratch so much. I ordered the Skin-Eze tablets and began giving them to her the day they arrived in the mail. I'd say within an hour I noticed that her scratching seemed to be less. I noticed an almost immediate imrovement. Over the last couple of weeks I've given her 4 tabs a day and her skin has cleared up quite a bit. She is still kind of spotty, but it has improved so much. She hardly scratches at all and we both get sleep at night.

I just wanted to thank you for making Sadie feel so much better. What a wonderful product. I will recommend this product to all my friends who have pets with allergies. I can't say enough about this wonderful product. Thanks again!
Karen and Sadie
---
I have a Chocolate Cocker Spaniel named Hershey. Last fall she started getting hotspots and a bad yeast infection on her ears. I have tried Benedryl, steroids and everything else. She had lost almost all of her hair when I found your site early June. I ordered your products and 10 weeks later she is much better. She still itches some which I think may be more habit than anything at this point. Her hair is coming back in. Granted it's a slow process but she looks so much better. I've enclosed before and after pics along with my sincerest gratitude.
Doris
---
I have a twelve year old Cairn Terrier who has had bad skin allergies for about 4 years. After doing all the traditional medical things (I was even giving her allergy shots which we both hated!) I surfed the web and found your site. This past March I began with the tablets and the bathing routine. Within about 8 weeks I could begin to see a difference and although she is not allergy-free the difference is amazing. Thank you.
Ann & Terry M.
Coshocton, OH
---
I just wanted to let you know that after using your product my dog, a lab, FOR THE FIRST TIME EVER, isn't shedding! I am amazed! I am so glad I found this product.
THANK YOU!
Robin S.
Bonita Springs, FL
---
I felt I had to contact you to let you know how well my dog is doing on the Skin-eze tablets. I own 3 Hamiltonstovare (Swedish Hounds) and the youngest who is 7, has been suffering for the last couple of years from some sort of skin problem. It manifests itself by causing her to suck and lick her feet until they are so sore she becomes lame, scratch her chest until she is almost bleeding, and rub her face and chin on the ground until she makes it bleed. We have had numerous visits to the vet where we are then prescribed pred tablets and antibiotics. She goes on these for a couple of weeks,sometimes 2 lots of antibiotics are needed, and then her skin all calms down and she is fine for a month maybe, and then it all starts again. The vet did prescribe some very strong antihistamine tablets, but they didn't work at all.

I contacted you first of all in February for my first tub of tablets, as I was looking on the internet to try and find out anything I could about skin allergies and I found your web site. Bobby Dazzler has now been on the Skin-eze tablets for two months at a dose of 6 tablets twice a day. She has had odd days where her chest flares up but using the tablets, together with garlic and greenleaf, and a combination of hypo allergenic food (which we did try for 3 months before we started the Skin-eze and it didn't seem to make much difference), lots of fresh vegetables and the thermostat turned down on the central heating, has made her a much happier little girl. A few days ago I received a 3 month supply from you and so I decided to up the dose to 7 tablets twice daily, and amazingly, she is absolutely fine, with no itching at all at the moment. I am so pleased to have found your web site as I didn't like her having steroids so frequently.
Thanks!!!!
Pat S.
United Kingdom
---
I want to thank you again ( I did it by phone last week) for the amazing improvement in our dog. When we began the Skin-eze suggested regimen he had no hair left on his belly and inside of his thighs, he had a sore on his back which he opened up constantly and his fur was dry and wierd (we call it monkey fur!) One bottle of capsules, a few baths, and some healing oil applied to the sores, and later, we have a dog who has fur on his belly and legs, scratches way less and has healthy, shiny fur growing back. We are so thankful for your products. We bought them as a last ditch effort before getting our poor pup shot full of steroids to bring him some relief. We thought this might even be a scam but were willing to lose the money..... Not only did we not lose our money we were amazed at the results. You are welcome to use us as a reference any time. We would be delighted to let people know just what a great product you have. The real test will come this summer as we believe his itching is related to an allergy to grass so we will let you know.
Thanks again,
Nan S.
Absarokee, MT
---
Dear Sirs,
I have a precious little 9 year old Shitzsu named Gizmo. I am single and have no children, so him and his health are very important to me. I have tried for over a year to find something that would eliminate his dry, itchy skin condition. No shampoo, conditioners, food addative, sprays or anything else worked. I also had him to the vet numerous times and no success there either. Then, one day, I stumbled on your website, by accident, and thought it would be worth trying. I did order the pills, spray, shampoo and drops from you. I have used your product 4 times and am amazed at the results I've seen already. I will continue using your product and have also told my groomer about your product today and they wanted your website since they have many dogs with the same type of skin conditions that mine had. I will promote you and your fine products to everyone I see that owns a pet.
Thank you very much,
Gary B.
Madison, TN
---
Just want to thank you soooo much for all you do for pets and pet owners. It is wonderful to know that prescription medication isn't the answer to every malady a pet may have.

Due to allergies, my black pug Annie's constant scratching and dandruff-looking coat made her a pug no one would have petted. Your wonderful product, Skin-eze, turned her from a miserable itchy baby into a beautiful sleek black "beauty queen". Her black fur is now shiny, soft and no dandruff. Everyone notices how healthy her coat is.

I have told numerous people about your product and website and will continue to do so. Keep up the wonderful work you folks do!
Sincerely-
Ruth W
Shippenville, PA
---
We just wanted to drop you a line and tell you how well this product worked. Our mixed terrier, Dixie, was suffering from seasonal allergies and the vet gave her a steroid shot followed by a series of steroid pills, this did not stop the scratching, chewing, and biting, it just made her gain weight and blow up like a sausage (the big kind), we found Skin-eze on the net and gave it a try, it took about 2 weeks for it to "kick" in totally and now no more scratching, chewing, and biting!!!
Thank you for a Good product,
Myron and Shirley J.
---
Hi..
My cat P.B. has been suffering from allergic reactions to various items for about 2 years. He has allergies to Corn, Soy, and Storage Mites. He develops lesions around his neck area that he scratches constantly at.

He has been to 2 specialists as well as numerous times to his regular vet and tried every treatment known to them. They include shots of Depo-Medrol, Prednisone, Hypoallergenic foods, Omega 3 Oils, Cyclosporin Drug Trial, Baytril, Antihistamines etc. The depo-medrol and prednisone worked until they wore off.

While on these medications his behavior also took a turn as well. The always friendly P.B turned afraid and paranoid and onlystayed in the kitchen where he felt safe. He also gained a lot of weight as well. His quality of life was poor.

I ordered your Skin-eze treatment, not really expecting it to help but figured I've already spent thousands of dollars on trying to get him better, what was another $27.00 at this point.

I administered the first 2 tablets on Sept. 19 at 6 pm., at this point he had lesions around his neck about the size of grapes. When I awoke on the 20th and checked on him the lesions were the size of peas. And within another few days were gone completely as well as his constant scratching.

We've recently changed to the capsules (easier for us to get him to take) and got him out exercising. He's been lesion free for about 3 weeks, his old personality has come back and has lost 2 lbs.
Thank You Skin-eze.
Dave C.
Mattapoisett, MA
---
Good Morning!!!
Gizmo and I would like to thank you sooooo very much for the relief that your product has given both of us. Gizmo is a five year old Yorkie that has had allergy problems all of his little life. He weighs less than six pounds and I was upset at how often we were having to have allergy shots and antibiotics because of the staff infections from his scratching. I was goggling one day and came across your product. I e-mailed you with my concerns and was still skeptical but decided what the heck I have tried everything else from pills to shampoos to food I might as well try this since it was all natural. Thank goodness I did. I purchased the whole package. Gizmo decided he would not take the pills but It didn't really matter because after the first week of baths he felt better. We are entering his worst allergy time of year, but I am not worried now for the first time in five years. It has been over a month since we started with your product and he is happy and I am very happy. I am writing this because I have given your name to my groomer (Colleen Doyle) and I hope you allow her to sell your product so other dogs can have the relief that we have found.
Thanks again,
Dennis, Patti, and Gizmo
---
Your product appears to be helping my dog Buster, he is a boxer, five years old. I also have added flaxseed caplets to his diet at the same time. We still have him on the prednisone in a smaller dosage. (which we hope to slowly eliminate from his daily routine) He has been on your product for a month now. He still itches everyday but his coat/hair has shown a remarkable difference, and his overall well being is improving daily. He is a much happier dog thanks to your product. I thank you for providing this natural source of Skin-eze for our dog.
Sincerely,
Marilynn T.
---
I absolutely love Skin-eze...I have 2 shih tzu's who suffer badly with skin allergies...I have purified water, the get groomed weekly, brushed daily, air purifiers, we avoid walking on grass, etc...and they just kept itching and scratching all the time...countless visits to the vets, prescriptions, a dozen different shampoo's, sprays and creams...After just "one shampoo" there was a remarkable difference...now I have all my friends dogs using your products and even my GROOMER is using it. Thank you!...I just ordered more shampoo today.
Susan O.
Palm Harbor, FL
---
Two and a half years of a horrible rash about which the vet had no clue at all; we stopped taking him in because it was a waste of time and money money money. Half a jar of skin-eze tabs and the inflammation is gone completely--no hot spots at all. Thanks so much!
Faye L.
---
We recently ordered your full skin treatment pack for Sophie, our 6 month old French Bulldog puppy. She has allergies that gave her a tummy rash that was really causing her misery - with constant scratching until she would bleed. After several vists to our Vet, with steroid and cortisone shots - the rash would go away, then return even worse in a few days. We tried every commercial/vet shampoo and pet skin care product out there with very little effect and were at our wits end, with the rash starting to spread to her neck and jowls. Then we came across your web site. We have been using your shampoo, spray, and oil on our puppy for about a week now and the results have been wonderful. Her rash has improved a lot, is shrinking and starting to go away, and the shampoo and spray gives her significant relief from the itching, where nothing else we tried worked. Great products!!!!
Thank you from:
Mark and Judi H. (and Sophie)
---
Thank you for the Skin-eze Shampoo plus the Skin-eze Oil I ordered from you, it arrived in perfect condition. The Skin-eze tablets have improved my dog Harley's constant scratching to no end. He is a much happier dog and is playing with my other dog Minx, a Maltese. He is a much brighter dog with a lot more energy. Thank you so much! I am so pleased with your product, I am looking forward to using the shampoo.
Ruth G.
New Zealand
---
I would like for you to know that our Boxer-Boston Terrier mix, Marley, had such severe skin issues (itching, hot spots, open sores, bright red skin, losing all her hair, miserable all the time, never wanted to play, etc...) that we were gearing ourselves up to have her put her to sleep. We had tried everything and spent SO much money. The vet would only cover up the symptoms with steriods and antibiotics. Once the treatment stopped she'd revert right back to misery. She's not a complainer, she just kept on itching and looking at us with love in her eyes. It was truly heartbreaking.

Skin-eze is the very first product that has made any difference. I honestly can't believe the difference. Marley's itching much less, her skin is not longer an inflamed color of red (it literally looked like the most severe sunburn ever and probably felt like it too), her hair is growing back, she is running around the yard and wants to play again.

I am so grateful and thankful that we did not put her to sleep and that she is on her way back to a more normal and comfortable life. Thank you so much. You've actually saved my dog's life.
Claire R.
---
My name is Bernice and I spoke to you back on the 4th of this month regarding my cocker spaniel. I mentioned that my dog has been itching and scratching for quite some time and the medication that we were getting from the vet was not helping over a period of time. Nonetheless once I came across your website for this product I called and boy was I glad.

Our dog was started on the regime as soon as we received the product. You had given me instructions on how to proceed with my dog and so I did as requested and I must say there was some improvement, however I think it will take a little longer for Bentley for I am so excited about this product. Thank you so much for your help.
Much Appreciation,
Bernice A.
---
I've been using Skin-eze Spray and Shampoo for flea control, and am so happy to have found natural products that are safe. I have been using the shampoo weekly, and the spray daily. The shampoo kills fleas, and the spray works great as a flea repellent. I especially like not having to rely on chemicals and nasty topicals to control fleas. And it's great to be able to bathe Rocky as often as I want without worrying about washing off the chemicals – I now have a sweet smelling pooch again.
Shirley M.
Edgewood, NM
---
Do you have any testimonials on the Anti-fear calming drops? I use the Skin-eze tablets, and I cannot say enough positive things about them, they are remarkable!! My dog, an Australian Shepherd, was almost hairless, he was bleeding, the vet could not do anything to help, then I found Skin-eze, it's amazing! I would like to try the anti-fear calming drops for some aggression problems, but was wondering if you had any stories of how this has worked for others.
Thank you,
Laurie
---
Dear AllergicPet,
We have two 6 year old Beagle, Spaniel mix dogs, one of which has a late summer/fall skin allergy. Her skin turns dark pink and she begins chewing her leg joints and her feet until they are raw and bloody. Some years we have been able to avoid the costly and unhealthy cortisone shot (which only served as a temporary relief), however, this year seemed to be the worst ever. She would leave bloody spots behind everywhere she laid. We found your website, read the testimonials and attached articles and decided to give the pills a try. After giving her 4 pills, within a couple of hours, she stopped chewing. We were more than amazed!! Her soft coat has returned from bare raw, opened wounds. The continued annoyance of itching and scratching has been a huge relief to our dog and ourselves. Even now that we are in the height of her allergy season, her skin is so healthy that we have switched her to a maintenance dose of only 2 pills per day and she continues to do great! I have passed all this information about your product to our veterinarian. He said, "Any time I can avoid giving a potentially harmful treatment [cortisone] for severe skin irritations, I am all for it!" Thank you so much for researching and providing this safe solution!!
Jack and Carolyn,
Delaware
---
Hi,
Thank you so much for your Skin-eze product. I was one day away from giving prednisone to my Golden Retriever for her ragweed allergy, as I have been doing for the last three summers. I figured I had nothing to lose by trying your product. By the first dose I noticed an improvement in her itching.
Lisa E.,
St. Catharines, Ontario
---
I just wanted to let you know that I received my order for the tablets and the shampoo. I started using the tablets on Friday evening and bathed Sydney in the shampoo and it appears to be working. I used to keep one of those cone collars on Sydney 24 hours a day, but he has not had it on since Saturday. I have only seen one area where he has chewed, but he has not chewed till it is bleeding, so that is a good sign for me. Thank you so much for having a product that actually gives Sydney relief from whatever is causing him to eat his hide up!!
Pam C.
---
We have a Jack Russell Terrier (Dano) who has been plagued with skin allergies during the Spring/Summer months for five years now. He has done the Cortizone shots, Benadryl, special diets, sprays, vitamins...you name it and spent a fortune in the process, not to mention the sleepless nights. Generally he rubs himself raw and just when we can't take it anymore, its Fall, the temps start to cool and he stops the itching and scratching. I came across your website a few weeks ago and figured I would give it a try. To our amazement your product really works. We have found 5 tabs a day (3 in the morning and 2 at night) to be what worked for our dog. He is sleeping well at night and not itching at all. We are so pleased. I just placed an order for 300 more tabs. Thanks so much for giving us back our sanity and Dano thanks you too.
Kim F.
Culpepper, VA
---
Just a quick note to say thank you!! My shih tsu constantly licked, scratched until we both went mad. I ordered Skin-eze in December and we both are much happier. The vet kept telling me to use chlortrimeton, it worked sporatically, Skin-eze is truly the answer. If anyone asks, I will certainly recommend you. I am also going to tell my vet.
George K.
---
Hello,
My 21 lb., 8-year old Schnauzer has had chronic skin problems here in Florida for 8 years. He's been on skin-eze for 3 weeks now....I just purchased the pills before going on a 2 week vacation. I then gave the caregivers instructions to give him 2 pills a day one pill with each meal. When I returned- to my surprise his belly skin was the whitest and most irritation free I have seen it since he was a puppy. Usually his belly had at least 50 tiny black irritation spots on it and was very red or irritated in some places. Also the hair on his feet was unusually thin as he would constantly lick them causing them to be irritated eventually as well. The hair has grown back on his feet! I have tried literally every high end medicated shampoo on the market and every cortozone or tea tree oil based sprays with no results. Doctors suggested allergy shots etc. I also tried every high end dog food thinking it was his diet possibly causing his skin problems. Skin-eze has "dramatically" cut down on his chronic skin problems to the point where he sleeps better, is happier and scratches much, much less. Thank you for developing a product that actually works!!!!! I will be reordering more soon.
John K. and Spike,
Montverde, Florida
---
I have had my 5 year old cocker spaniel (Annie) on skin-eze for less than a week. She gets 2 tablets twice a day and I also put the healing oil on the affected areas twice a day. She isn't fond of the tablets, but she is a very picky eater. I have been dissolving them in a little water and adding it to her food. I can't believe that she is almost completely healed. The last two nights have been the best night of sleep for her in years. I am so pleased with the product! I plan to purchase the shampoo and the spray. I've told a few of my friends that have cocker spaniels and they will be purchasing from you shortly. Thank you for this wonderful product!! Annie and I both thank you!
Victoria L.
---
"My miniature Schnauzer has suffered with skin problems for the past few years. Repeated trips to the vet. and MANY medications did nothing to end her constant itching, chewing of the feet, loss of hair, etc. I was frantic to find something to help!!! I came across your product on the Schnauzer web page and figured I would give it a try. "Within 4 days, I could see a marked difference in her skin and personality. She started with 2 tablets 3 times a day and is now taking 1 tablet 3 times a day. She is back to her old self -playful, happy and not itching!!! I will continue dropping back the dosage until I find she's at her comfort level. "Many thanks for a great product. Shipment was fast and the product is the best!!! I already ordered 2 more jars. Keep up the good work!!!
Sincerely,
Jane P.
---
"Thank you ... This stuff (Skin-eze) is WONDERFUL! My miniature Schnauzer can relax and enjoy her life now ... no more "seizure-looking" scratching episodes!!!
M.B.,
A VERY PLEASED customer
---
Thought I would give you an update as to how we are progressing with the Skin-Eze tablets.

Spring has now been on a dosage of 4 tablets, twice a day, for almost 14 days and the change is incredible. As you know, when we received the tablets, she was already on a course of steroids prescribed by the vet.

We have gradually weaned her off those to the point that she is not now taking any, and the itching is greatly improved. In fact, she is hardly itching at all. We have been holding our breath before making this statement, but it would appear that she is definitely responding to Skin-eze. At first her system was slightly upset and her bowel movements most irregular, but all that has settled down and she is back to normal. We are absolutely thrilled.
Regards,
Lynn B.
---
Dear Allergicpet.com,
After trying nearly every vet office remedy available for my large German Shepherd's skin allergies, I found your information on the internet about Skin-Eze and decided to try it. We had already tried the cortisone shots, changing the dog's diet and everything else. No other remedy had ever worked completely for my dog.

I put him on 4 tabs mixed in his food morning and evening to begin with. His itching was reduced within days, and his skin condition began to heal and his hair loss began to grow back within a week. He is a much happier dog, and the skin allergy is now under control for the first time since I've had the dog.

Thank you for making this product available for dog owners.
Thank you for your help,
K-9 Hank and Susan D.
Disaster Response SAR K-9 Team
---
Hello,
I recently ordered Skin-eze for my 5 year old Golden Retriever (her name is Bella) who has allergies.

First off, I want to thank you. Monday night was the first night Bella has slept all night in about a month. As soon as we tried our product and saw the success, we asked ourselves why we had not heard of the product before and what can we do to let other people know about Skin-eze. My wife and I are so impressed with the product!
Thanks,
Steven F.
---
Well, early May brought sudden warm weather and lots of rain this year. The molds evidently flourished here in mid-Michigan. My darling Bichon Frise, "Cookie", suddenly had an itch problem that was to become nearly tragic.

I began by giving her a flea treatment of Advantage. No relief. The itching became worse, and began to look red, swollen and possibly infected. Her Vet suspected an allergy, and suggested Benedryl 2x a day. No result. Things got worse.

The vet then suggested a diet change (I cooked for her in order to assure that proper controls were in place) and prescribed an antibiotic, an antihistime shampoo as well as switching her to Chlortrimeton (a different oral antihistimine). Her hair began falling out...everywhere I looked in the house I could see globs of her hair. The itching had become a torment to her, and was still escalating.


Next, the vet added a prescription antihistimine, Atarax, and did a skin scraping looking for possible mites. The Vet gave her an injection of Ivermectin, suspecting mites. No results, and things were getting worse. It is now the end of May. The itching had become true torment, and I began to consider having to put her down. I prayed, literally, for an answer (I believe all things are possible through God, the Father, Almighty). In absolute desperation I began to search the internet for anything...any information or ideas that might help my dog. I came across this site. I called on the telephone immediately and spoke to a wonderful, caring person (Suzanne), who said she thought the Skin-eze products might be helpful. I had the products (all four of them) overnighted to me.

After just 2 or 3 days my dog was showing remarkable relief, and after a week the itching was very much GONE. You could see the the relief in her eyes, and I knew we were on the right track.

It is now the end of July, and Cookie has been enjoying life again and her hair is coming back in nicely. She is very happy, and so am I. Thank you very much for your caring and help for my dog. She cannot speak to you in words, but if she could I'm sure she would tell you she owes you her life.

I just want to mention, Cookie is also diabetic. These products worked for her without causing problems with her blood sugar.
THANK YOU FROM THE BOTTOM OF MY HEART!!!
Sandy
Mid-Michigan